Swampstar


Current Clan
StormClan
Age
25 moons
Cause of Death
Unknown
Status
Unknown
Names
Deputy: Swampgator
Leader: Swampstar
Mother
Unknown
Father
Unknown
Siblings
Shorepebble
Mate
Unknown
Kit(s)
Unknown
Mentor(s)
Unknown
Apprentices
Unnamed she-cat
Stories Living
Unknown
Stories Deceased
Unknown
Owner
whiskers
Swampstar
 is a pale bulls-eye patterned classic tabby tom with bright eyes.
Description
Edit
Appearance
Edit
Coming Soon
Character
Edit
Coming Soon
Abilities
Edit
Coming Soon
Biography
Edit
Kithood and Adolescence
Edit
Coming Soon
Adulthood
Edit
Coming Soon
Ceremonies
Edit
Coming Soon
Sister:
Shorepebble - Living
Nephews:
Raptorkit - Living
Cypresskit - Living
Niece:
Coastkit - Living
Relationships
Edit
The littermates are the last of their family, at least that's what they believe. As a result, Swampgator has grown extremely protective of his sister, and frets even when she simply leaves his sights. They were very close as kits and shears looked out for one and other, especially during their Clan's great change. Swampgator despises any and all toms who even dare to look at his sister, and if she was to even think about getting a mate, her brother would have to approve of the tom.
Love Interests
Edit
Coming Soon
Coming Soon
Coming Soon
Coming Soon
Coming Soon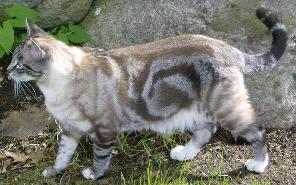 Poor baby doesn't have all of this nine lives.
Ad blocker interference detected!
Wikia is a free-to-use site that makes money from advertising. We have a modified experience for viewers using ad blockers

Wikia is not accessible if you've made further modifications. Remove the custom ad blocker rule(s) and the page will load as expected.